Andy Robertson admitted that Scotland deserved to be shaken by the Tartan army after their horrific 3-0 defeat to the Republic of Ireland at Aviva Stadium.
After losing the World Cup play-off semi-final to Ukraine at Hampden Park, the Scots started their campaign in the League of Nations with a 2-0 home win over Armenia.
The result and performance gave Steve Clarke's men confidence for the trip to Dublin to face an Irish team that had lost the first two matches of Group B of Group 1 and were really looking for their first win in the Ligue 1. Kombeve.
But the locals dominated from the start and goals from Alan Browne and Troy Parrott gave them a well-deserved lead over Michael Obafemi, making his international debut, which struck early in the second half.
Captain Robertson admitted the performance was not "good enough" and said Scottish fans had a right to express their disappointment.
Robertson: Not good enough performance for the Scottish jersey
"For the fans behind the gate cheering us on, absolutely good," he said The first sports.
"We know they have come a long way, we know they pay a lot of money and the performance is not good enough with a Scottish shirt.
"We will have to evaluate as a team, we will have to evaluate individually and we have to press the reset button because everything was fine last year, but this year the performance has not been at the level yet.
"We knew they were under pressure, two losses in the first two places and maybe they were challenged.
"We had to face the storm, but we did not succeed.
"We gave them corner kicks, we won some big kicks that boosted the crowd and set the tone for the game and unfortunately we did not enter the game until they lost 3-0.
"The overall performance was nowhere good enough and not good enough for a Scottish shirt. »
He added: "We disappoint the manager, which is so disappointing for us. He set us up in a way and we never did.
"Each of us has lost our individual battles that can not happen in these games.
"The second balls went to them, they were winning the shots and they had chances. And when that happens, the result only goes in one direction. »
"We have to be consistent again"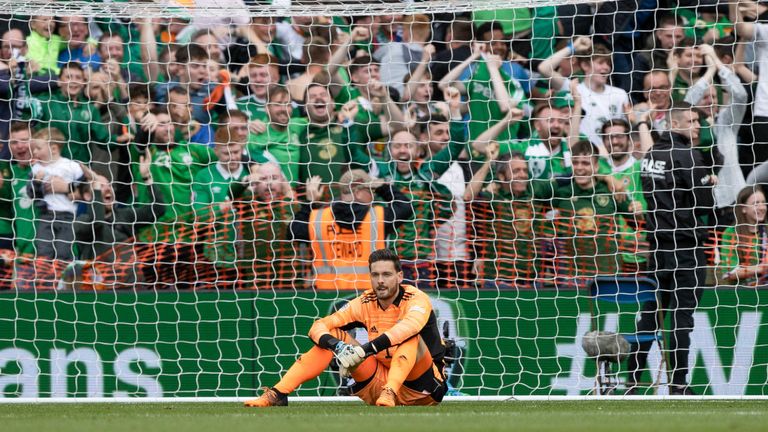 Robertson believes Scotland must regain the level of stability shown in its eight unbeaten streak ahead of the loss to Ukraine.
He said: "It can not continue to be a performance and we try to get them or try to collect them.
"We have to become stable again, which we did very well last year.
"Today I do not think anyone has played above the level, which in places like this is nowhere good enough.
"A few words have been said in the locker room and rightly so, but the manager, the coaches and all the players are all together, but some things need to be said and we need to recover and have a good run.
"It can not be a good performance and then a bad performance, this is not what we have built under this manager and this is what we have to go back, to make the foundations properly. »
Clarke: We have to move forward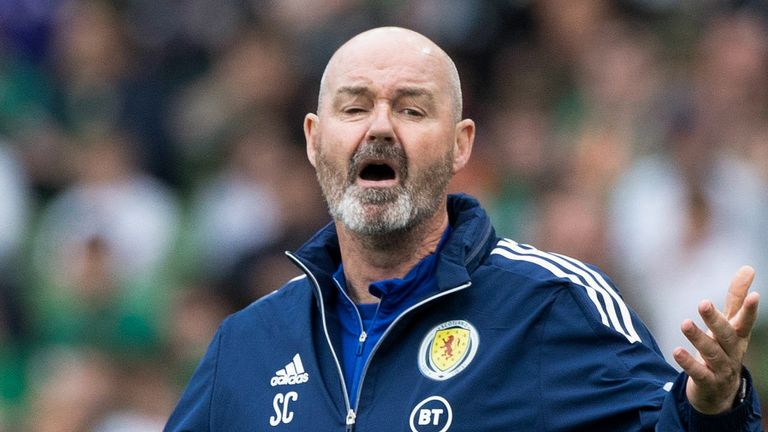 For Scotland coach Steve Clarke, it turned out to be a clear night across the Irish Sea 10 days after his team's heartbreaking exit into the World Cup play-off semi-finals.
Clarke said: "Ireland deserved to win. They were in the front leg, we did not face and we played badly and we lost. »
But when asked if he felt disappointed with his players, Clarke added: "Listen, this group of players have done fantastically for me and they have done fantastically for their country.
"We had two big hits in the space of three games, the first time in a long time that happened to us and I'm interested in seeing how they return to the group.
"I will not criticize this group of players. They have been fantastic to me. Sometimes you have a bad day. Unfortunately, we have had two bad days in a row and we need to learn to deal with this and move on. »